Thinking about relocating and moving to Airdrie Alberta? This page will help you learn more about Airdrie, the Airdrie real estate market, and Airdrie's neighborhood communities.
About Airdrie
The city of Airdrie AB is located 15 minutes north of Calgary within the Calgary–Edmonton corridor at the intersection of Queen Elizabeth II Highway and Highway 567. With a population of over 74,000, Airdrie is a dynamic and growing Alberta city that offers a convenient location and a family orientated lifestyle.
Airdrie, AB is named after the town of Airdrie, Scotland. The true origin and the meaning of the word "Airdrie" is a source of great debate among the Scots. Some suggest the name comes from a Gaelic term Ard Ruith meaning a level height, high slope or high pastureland. Others say it comes from Aeddam, King of Kintyre, and Rydderych the Bountiful, King of Strathclyde. Still others say it comes from Aird Righ, Gaelic for High King. Despite the debate, it is certain the name is ancient and is one of countless examples of Scottish place names found in southern Alberta. (source – City of Airdrie)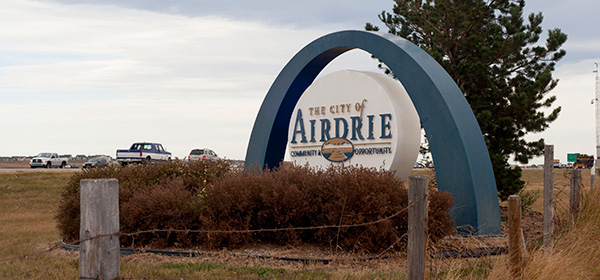 Today, Airdrie is a young and vibrant city with many young families. Perhaps one of Airdrie's greatest strengths is its connectivity. Airdrie is just 15 minutes to the Calgary Airport and 30 minutes to Calgary's city centre which makes it a great place live if a member of the family works in Calgary. Finally, Airdrie is about an hour and a half to Banff and is about 3 hours to Edmonton.  
Businesses
Airdrie boasts a full assortment of retail in the city or at the Cross Iron Mills mall (which is 10 minutes south of Airdrie). Airdrie also has a variety of industries including industry sectors such as manufacturing, professional, scientific and technical services, transportation and logistics and environmental industries.
Events
Airdrie has a vibrant theatre and music community which performs at the Burt Church Theatre. In addition, there are some popular annual events such as the Airdrie Pro Rodeo and the Festival of Lights.
Schools
Airdrie offers a wide variety of school choices for its 7000 students including elementary, middle schools, high schools, and a French school. Airdrie belongs to the Rocky View School Division for public school and is part of the Calgary Catholic School Division.
Airdrie Real Estate Market
Airdrie has a full mix of housing options including detached homes, townhomes, and low-rise apartments. Generally, Airdrie has been less expensive for similar housing than Calgary. Lower relative housing costs and proximity to Calgary makes Airdrie a popular option for families that have a family member who works in Calgary.
Below is a recent snapshot of the average house prices in Airdrie. For more information about current Airdrie Real Estate prices and market conditions, please contact me.
Average Airdrie Real Estate Prices
Airdrie Communities
Airdrie has some great neighborhoods such as Woodside with golf course living or Bayside with homes on the canal. Whatever your preferences or lifestyle, there is a neighborhood in Airdrie to suit you and your family.
Below is a list of Airdrie neighborhoods. For more information on any of these Airdrie neighborhoods please contact me and I'd be happy to provide you with a community profile.
Airdrie Neighborhoods
Airdrie Meadows
Bayside/Bayspring
Big Springs
Canals
Coopers Crossing
Downtown
East Lake Industrial
Edgewater
Edmonton Trail
Fairways
Highland
Hillcrest
Jensen
King's Heights
Luxstone
Meadowbrook
Midtown
Morningside
Old Town
Prairie Springs
Ravenswood
Reunion
Ridgegate
Sagewood
Silver Creek
Stonegate
Summerhill
Sun Ridge
The Village
Thorburn
Waterstone
Williamstown
Willow Brook
Windsong
Woodside
As someone who worked in Airdrie for 6 years, I can provide an informed view about Airdrie. I'd be happy to help you with more information and resources to help you purchase a home and relocate to Airdrie.
For more information on moving to Airdrie Alberta please fill out the contact information below.
Sources:
https://Airdrie.ca/residents/about-Airdrie/history-of-Airdrie