Thinking about relocating and moving to Canmore Alberta? Or perhaps you are looking for a recreational property as a second home. This page will help you learn more about Canmore, the Canmore real estate market, and Canmore's neighborhood communities.  
About Canmore
The town of Canmore is located along the trans-Canada highway about 60 minutes west of Calgary and 20 minutes east of Banff. Canmore is one of Canada's best known mountain towns where you can live your best mountain lifestyle. Canmore is still relatively small with just 16,000 full time residents, but still boasts a busy shopping district, restaurants, and nightlife.
Canmore was named in 1884 by Donald A. Smith, an employee of the Canadian Pacific Railway at the time. The name originates in Scotland, possibly in honor of King Malcolm III. The anglicized version of the Gaelic Ceann Mór, Canmore has been variously translated as "big head" or, more likely, "great head" or "chief." Canmore was originally a coal mining town and largely stayed that way until 1979 when the mine closed. The 1988 Calgary Olympic games helped to kick start the transformation of the town into a desirable tourist destination. (Town of Canmore)
Today, with unapparelled scenery and outdoor recreation, Canmore attracts over 3.5 million visi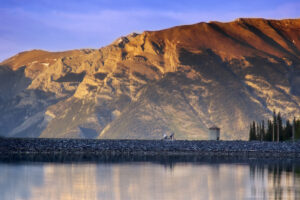 tors each year. That number of visitors can be both a blessing and an issue for the residents of Canmore. For a town with a population of Canmore, there are more excellent restaurants and cafés than most small towns would have. In addition, there are more recreational opportunities, such as having the Canmore Nordic Centre, a climbing centre and five golf courses, then any other small town in Alberta. However, there can be a downside to all that tourism as it also attracts a lot of traffic and parking anywhere downtown in summer becomes tough. Also, the sheer numbers of visitors can be taxing on local amenities such as health care and recreational facilities. However, on balance, Canmore is a desirable place to live or have a second home.
Businesses
Canmore's main industry is tourism. Hotels, restaurants, and gift shops are the most obvious tourism businesses but there are also a lot of support businesses as well. For instance, there are a significant number of wellness related businesses in Canmore. Canmore also has many construction businesses that support building new homes for people that call Canmore their second home. Currently, there is a lot of construction in Spring Creek area and there will be further development in the Three Sisters Mountain Village area in the future.
To support Canmore residents there are two major supermarkets, Canadian Tire, Home Hardware, and a couple of interior decorating and furniture stores.
Events
Year round, Canmore is a busy town with many types of events going on. Popular events include Canmore New Year's Eve celebration, Canmore Winter Carnival, Canada Day, and the Canmore Highland Games.
Schools
Canmore belongs to the Canadian Rockies Public School Division and includes Elizabeth Rummel School (K-3), Lawerence Grassi Middle School, and Canmore Collegiate High School. Canmore also has two special charter schools including a French school – École Notre-Dame-des-Monts and an arts focused school – Alpenglow School. For more community information on living in Canmore please see the Town of Canmore website.  
 Canmore Real Estate Market
Canmore has a unique housing market in Alberta. There is a mix of permanent and second home buyers in the market. This creates competition for housing in Canmore driving average housing prices up. Some areas in Canmore are designated as non-tourism housing areas (meaning no overnight or short-term accommodation such as Air B&B or timeshares) while other areas this would be acceptable.
Below is a recent snapshot of the average house prices in Canmore. For more information about current Canmore Real Estate prices and market conditions, please contact me. 
Canmore Real Estate Trends
Canmore Communities
Choosing a neighborhood that reflects your lifestyle is arguably more important in Canmore. Some neighborhoods in Canmore are more family orientated with permanent residents with kids while others are more orientated to second homeowners where you can enjoy meeting neighbors who live part-time in Canmore. Also, one side of Canmore gets about 3 weeks more winter than the other side!
Canmore Neighborhoods
For more information on any these Canmore neighborhoods, please contact me and I'd be happy to provide you with a community profile.
Town Centre
South Canmore
Lions Park
Spring Creek Mountain Village
Silvertip
Larch
TeePee Town
Cougar Creek
Three Sisters Mountain Village
Eagle Terrace
Prospect
Peaks of Grassi
Rundleview
As someone who lived in Canmore for 7 years, I can supply an informed view of living in Canmore. I'd be happy to help you with more information and resources to help you purchase a home and relocate to Canmore.
For more information on moving to Canmore Alberta please fill out the contact information below.
Sources: