Thinking about relocating and moving to Calgary Alberta? Calgary's Northwest offers a great lifestyle with good access to downtown, University of Calgary, recreational opportunities, and quicker access to the Rocky Mountains there are many reasons to choose to live in North West Calgary. This page will help you learn more about Calgary, Northwest Calgary's real estate market, and Northwest Calgary's neighborhood communities.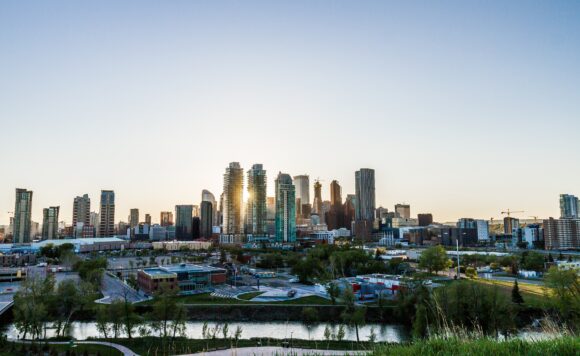 About Calgary
Calgary Alberta is located on the confluence of the Bow and Elbow Rivers. Calgary is Alberta's largest city with over 1.3 million residents. It is a modern dynamic city with a young (average age of 36.6 years old) and diverse population which is home to over 240 different ethnic origins, and there are more than 120 languages spoken. Calgary is also home to the second largest number of head offices in Canada with industries that include manufacturing, technology, aviation, and oil and gas. Calgary is Canada's sunniest city, with 333 average sunshine days per year. Summer temperatures in Calgary average in the mid 20 degrees Celsius and winter temperatures average between 0 and -10 degrees Celsius. With Banff and Canmore just a little more than an hour's drive west of the city, hiking, camping, and mountain sports such as skiing feature prominently in the leisure activities of many Calgarians. Calgary is a geographically large city of 825 km2 and is divided into four quadrants on the map (NW, SW, SE, NE). Each area is unique with its own communities. 
Schools
Calgary offers a wide variety of school choices including elementary, middle schools, and high schools. Calgary belongs to the Calgary School Division for public school and is also part of the Calgary Catholic School Division. Calgary also has an array of specialty schools known as Charter Schools as well as private schools (see https://www.lifeincalgary.ca/schools/charter-private for more information). Calgary also has two universities (UofC, and Mount Royal), a technical school (SAIT), and several Colleges (Bow Valley College & Alberta College of Art and Design).  
Northwest Calgary
Buyers seeking upmarket housing options, convenience, and easy access to the Foothills and the Rockies will be attracted to Northwest Calgary. As a quadrant, northwest Calgary is an area roughly bordered by Deerfoot Trail to the east, the Bow River to the south, Calgary's city limits to the west, and Stoney Trail to the north. Living in the Northwest side of Calgary gives you great access to downtown, as well as recreational opportunities in Calgary (such as Canada Olympic Park) and a shorter drive to the Rocky Mountains. The Northwest is slightly better served by the C-Train than the Southwest, with the Red Line offering easy downtown access for residents near the University of Calgary, Kensington, and further into the suburbs. For car commuters there is the Crowchild trail which leads to the downtown core and access to Calgary's ring road (Stoney trail).
Calgary's Northwest Real Estate Market
Northwest Calgary includes some of Calgary's oldest and newest neighborhoods. It has a full mix of housing options including detached homes, semi-detached homes, townhomes, and apartments. In-fill homes in legacy neighborhoods are common in this area as well. Below is a recent snapshot of the average house prices in Northwest Calgary. For more information about current Northwest Calgary Real Estate prices and market conditions, please contact me.
Northwest Calgary Real Estate Trends
Northwest Calgary Communities
Whatever your preferences or lifestyle, there is a neighborhood in Northwest Calgary to suit you and your family. Below is a list of Northwest Calgary neighborhoods. For more information on any of these Northwest Calgary neighborhoods please contact me and I'd be happy to provide you with a community profile.  
ARBOUR LAKE
BOWNESS
BRENTWOOD
CHARLESWOOD
CITADEL
COLLINGWOOD
DALHOUSIE
EDGEMONT
HAMPTONS
HAWKWOOD
MONTGOMERY
RANCHLANDS
ROCKY RIDGE
ROYAL OAK
SCENIC ACRES
SILVER SPRINGS
TUSCANY
UNIVERSITY DISTRICT
UNIVERSITY HEIGHTS
VALLEY RIDGE
VARSITY
I specialize in helping clients locate on the west side of Calgary including Northwest Calgary. I'd be happy to help you with more information and resources to help you purchase a home and relocate to Northwest Calgary.
For more information on moving to Northwest Calgary Alberta please fill out the contact information below.  
Sources:
https://www.lifeincalgary.ca/about-calgary
https://moving2canada.com/living-in-calgary/
https://www.britannica.com/event/Calgary-1988-Olympic-Winter-Games