Thinking about relocating and moving to Rocky View County Alberta? This page will help you learn more about Rocky View County, the real estate market in Rocky View, rural living, and Rocky View County's communities.
About Rocky View County
Rocky View County borders Calgary to the north, northwest, and east of the city. With a mix of rural acreage's, farmland, and suburban communities Rocky View County has something for everyone who likes a rural lifestyle with the convenience of the city close by.
Rocky View County came about starting in the early 1950s. The provincial government at that time had to correct the problem of overlapping jurisdictions between the municipal districts and school districts. Municipal boundaries were redrawn to include school districts. The existing local municipalities were dissolved in 1955 and amalgamated into the Municipal District of Calgary No. 44. The name "Municipal District of Calgary No. 44" was unpopular and in December 1955, a contest was held among school children to rename the municipality. The winning name was Rocky View and so the name "Municipal District of Rocky View No. 44" became official. The final name change came on July 7, 2009, when the Municipal District of Rocky View No. 44 officially changed the name to Rocky View County. (Source – Rocky View County)
Today, Rocky View County offers many different types of rural and suburban lifestyles. While many in Rocky View are involved in agricultural activities, there is plenty of available opportunities for acreages and suburban homes for those who enjoy a more rural lifestyle.
Schools
Depending on where you live in Rocky View County, the school that your child will go to will vary. Rocky View County belongs to the Rocky View School Division for public school and is part of the Calgary Catholic School Division. Please check these websites for more information on which school they will attend.
Rural Living
Maybe you dream of owning your home and a little patch of land on an acreage. Rocky View County offers a great place to own an acreage. But if this is your first time buying an acreage, you likely have questions about living in a rural area. When buying an acreage there are some additional due diligence required compared to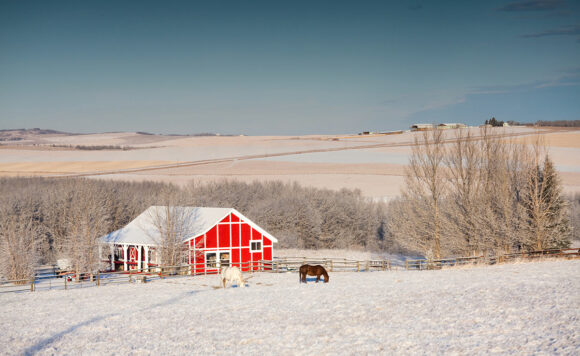 buying a house in a town or city, which as your Realtor®, I'm happy to help you with. For example, if you plan to own horses or other livestock you need to be aware of the requirements outlined in the Rocky View land use bylaw (e.g. the bylaw outlines that you will need 3.5 acres minimum for most types of livestock). You should also be aware of where you are buying your acreage, as there may be agricultural activities nearby that may affect air quality. Finally, the services, roads, etc. will have some differences which complicates purchasing an acreage over a home in a town or city.
While some of Rocky View's suburban communities will have municipal services, such as water, sewer, garbage pickup, etc. similar to towns, those who choose to live on acreages will likely be responsible for taking care of their own services. This can seem daunting at first but with a little research it can be quite manageable. I've included a short explanation or each type of service along with some links below to help you get started. If you have any questions, I'd be happy to help you.
Water
When buying an acreage, it is important to understand the water system that will be servicing your house and land. The most common types of water systems in rural areas are either wells or cisterns.
A well is drilled into the ground and produces water from an aquifer. Different wells can produce different water quality, pressures, and lifespans. Water quality can be affected by bacteria load, hardness, alkalinity, PH, etc. (see this homeowner's package for Interpreting Drinking Water Quality Results for more information). While water pressure can affect how much water you can use at one time. The remaining well lifespan also becomes an important consideration as wells can be costly to drill a new well (about $2,000-$10,000 depending on depth). So, when buying a rural property, it becomes important to complete additional due diligence on the well water system.
The other main type of water system is cistern. A cistern is an underground tank that holds water. Property owners with cisterns get their water either by hauling it themselves or by having a service provide the water. While cisterns are less complicated than wells, they still need to checked and maintained periodically (for more information see Caring for A Cistern).
Septic Systems (Sewer)
Most rural acreages are not connected to municipal sewer services. Instead, most rural properties have a septic tank which then is connected to a holding tank, treatment mound, sewage lagoon, or a septic field.
Septic tanks are watertight containers that process sewage from the residence. Septic tanks use naturally occurring anaerobic bacteria to process the sewage from the residence that enters the tank. The anaerobic bacteria break down the sewage separating the solids from the liquids. The septage remains in the tank until a vacuum truck manually removes it and takes it to an approved treatment facility. The liquid portion, or effluent, then moves onto the next stage, which is either directly to treatment and disposal, or to an effluent dosing chamber or separate dosing tank. After the effluent dosing stage, the effluent leaves the tank where it moves onto the next stage of septic treatment and disposal.
Given the importance of this system, it is essential to ensure that the system has been properly maintained and it is inspected before the purchase of the property.
Garbage Disposal
Rural garbage disposal and recycling is usually done either by the property owner or by paying a service to remove it. Rocky View County has a number of locations to dispose of garbage and recycling depending on where you live in Rocky View.
Rocky View County Real Estate Market
Rocky View County has a mix of rural housing including acreages, hamlets, and planned communities.
Below is a recent snapshot of the average house prices in Rocky View County. For more information about current Rocky View County Real Estate prices and market conditions, please contact me.
Rocky View County Real Estate Trends
Rocky View County Communities
Below is a short list of some of Rocky View County communities west of Calgary. For more information on any of these or any other Rocky View County neighborhoods please contact me, and I'd be happy to provide you with a community profile.
Cochrane Lake & Monterra
Cochrane Lake and Monterra is six kilometers north of Cochrane on Highway 22. Located on two small lakes the Cochrane Lake area originally was a community for second homes in the 1960's and 70's. Today, Cochrane Lake has grown into a community with a mix of acreages and higher end homes in the Monterra neighborhood.
Bearspaw
Bearspaw is six kilometers from the north-western edge of Calgary along highway 1a and is also fourteen kilometers east of Cochrane. The Bearspaw area includes a mixture of farms and ranches, acreages and planned subdivisions. Recently, Bearspaw has become best known for high end homes and acreages along Bearspaw road and Lockend road.
Bragg Creek Calgary, Alberta
Bragg Creek is located on Highway 22 about twenty-eight kilometers west of Calgary and twenty kilometers from Kananaskis provincial park (Elbow recreation area). Nestled in the foothills of the Rocky Mountains, Bragg Creek has attracted tourists and residents with the rare opportunity to experience modern conveniences in a rustic setting. The Bragg Creek area offers a mix of traditional housing in the hamlet and on Redwood Meadows along with woodland acreages in the surrounding area.
Elbow Valley
Located eight kilometers west of Calgary along highway 8 in the Elbow River valley, the community of Elbow Valley includes several neighborhoods. Elbow Valley offers luxury suburban living with the convenience of the city just minutes away. The community features a residents club, two golf courses nearby, and a small lake.
Springbank
The Springbank area is located immediately west of Calgary between Calgary and Highway 22 to the west and Highway 8 and the Bow River. Springbank was named after Springbank Creek, which runs through the community. Originally a productive agricultural community, the area started to attract rural residential living in the 1950s.
Today Springbank is a mixture of agricultural farms, acreages, and planned subdivisions. Most of the community's services, which include schools, churches, clubs, and recreation, is near Range Road 33 and Highway 1. Springbank also features a busy airport for small aircraft.
Harmony
Harmony is a newer planned community in the Springbank area. Located near the Springbank airport, about 28 km from downtown Calgary, Harmony provides rural suburban living with the convenience of being close to the city. Harmony has several planned phases that include a club house, spa, golf course, two lakes, and a future school. Phase 1 is completed and has resale homes available.
I'd be happy to help you with more information and resources to help you purchase a home and relocate to Rocky View County.
For more information on moving to Rocky View County Alberta please fill out your contact information below.
Sources: